By combining the brilliant 'Smart Touch' scanning system from Kodak and 'Approve' workflow it's easy to create an automated process for all of your accounts payable invoices (and just about anything else too!).
Automated invoice processing
is easy with Kodak's range of desktop scanners start from under $1000 and they all come with the Kodak 'Smart Touch' software which lets you turn any document into a searchable pdf file.  Combine that with Docpoint and Approve and you have a complete document workflow and management solution.
Most invoices today arrive either in paper form or as a pdf file attached to an email. You simply scan your paper invoices, maybe enter a few keywords and let the Docpoint 'Smart Touch' interface handle the rest. For those files that arrive by email, all you need to do is drag and drop the attachment into the Docpoint folder.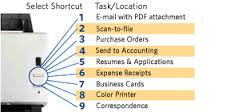 'Smart Touch' comes with a range of pre-configured settings like, scan to email, scan to file, or you can configure your own for just about any application.  And it can create files in a range of formats so it can be set up to cater for all of your office scanning requirements too.
The Approve workflow engine compares the files with the defined workflow rules and automatically routes them to the appropriate location.  Automated workflow steps can do things like add additional data from other systems, validate suppliers against your database, check purchase orders etc.   Smart touch and Approve workflow could be used for personnel records, timesheets,  contracts, reports, and just about anything else your business needs to keep.
Approve can export data to most systems and Docpoint takes care of the long term storage and retention of all of your files.